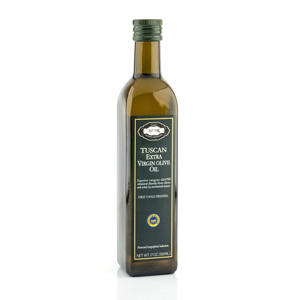 PGI Tuscan Olive oil EVO
The company grows about 6.000 olive trees of typical Tuscan varieties: Frantoio, Leccino, Moraiolo e Pendolino, grantic a product in the legacy of our tradition.
Olive grows are farmed according to organic method, on earth dedicated to olives growing.
Olives are manually picked at their best maturation rate, preserved in small aerated boxes and crushed within 24 hours. Milling is made with continuous process, granting hygiene, no defects, no oxidation of olive oil; in this way we achieve a product more fruity and mild with higher rate of poly-phenols (the antioxidants characteristic of olive oil). Olive oil is clear, bright green colour with golden reflex. The tasty bouquet remind on fresh grass and artichoke.

DENOMINATION
Extra Virgin Olive oil Tuscan PGI
Production Area
Arezzo hills
CULTIVARS
Frantoio 60%, Leccino 25%, Moraiolo 10%, Pendolino 5%
AVERAGE ALTITUDE
380 mt on sea level
PICKING
Hand picking
PERIOD OF PICKING
October, November
MILLING METHOD
Cold Extraction Martelli-Centrifugation
CHEMICAL ANALYSIS
Acidity (%i on the weght of oleic acid) 0,16
Peroxides (meq 02/kg) 4,30
K232 1,2455
K270 0,2141
Oleic Acid % m/m 77,56
Tocopherols (mg/kg) 173,00
Polyphenols (mg/kg in acido gallico) 451,00